Character's Name
: Queen Cold (Shiva Cold)
Character's Race
: Icer " Changeling"
Character's Gender
: Female
Character's starting planet
: Cold's home planet
How did you find us?
: Taku : D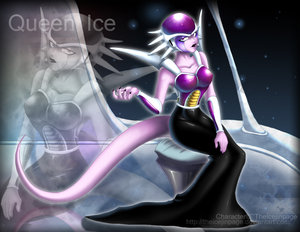 Sample RP, 200-300 words long (Can be a old RP)
:
Limbs, legs and tails were tangled from the night before. In the twilight of hour of that night, the dance lovers display was acted out so impressively that the two Changelings found themselves fast a sleep, spending the day with their eyes closed. This was one of the days that Shiva had Mr. Cold to herself. A day she wouldn't have to call him King, my lord, Emperor or Mister. This day she would call him Coldey.
Sounds a bit childish, but the nick name dates back to when they first meant; when she was just a Princess and him a Prince. That was a simple time before it got complex with the everyday life of the rich and famous.
Stretching her limbs Shiva opened her orbs to see the face of her gorgeous lizard king. Finding a smirk on her lips she reached over taking her hand and brushing it gently against his cold arms she always found to heat her up. "Coldeyyy..." Humming on the back of his neck, she placed a kiss on that same area. Sitting up she turned around crawling over him landing on his other side. " Coldeeyyy.." She blew on his face waiting for some type of response.
Character's Biography (optional)
:
Age
: A lady never tells duh ( 758, in Changeling thats like late twenties )
Hobbies
:
Sitting on Coldey;
Killing females whom have eyes for Coldey ;
Cooking (strangely);
Fashion/shopping ;
Teasing Coldey ;
Getting her way with Coldey;
Chatting with her closest friend;
Dancing;
Reading;
watching others who are lie or are against Cold die;
taking care of children even if Frieza and Cooler are mean;
Getting her way all the time;
hearing those special I love yous from Cold;
ahem things that cannot be named that are done with her husband ;
History
:
Shiva grew up on the cold's planet like any other of her race. Though she was way more privileged than many other's. She was raised with everything in her background a royal could promise. A life of luxuries could never do good for a female and so she became spoiled to the core. After a while she became so spoiled that people feared her tantrums.
She meant Cold at the age of 13. Instantly there was friction between them, they did nothing but fight fight fight fight. Cold thinking of her as nothing more than a spoiled brat and Shiva thinking of him as an evil self centered cocky ass. All the tension between them turned to hatred and soon they found themselves fighting for each other's throats. Knowing that the two most powerful Icer 'Chanegling' families needed this marriage they were forced to live with each other for a year in space. Finding their way back Shiva and Cold had fallen for each other. She finding his nobleness to be beautiful and his evil to be more intimate than let on. Cold found Shiva's spoiled nature to be a defense mechanism and she was much more reliable than letting on. They found they were perfect for each other and by the age of 18 were legally King and Queen.



Posts

: 28


Join date

: 2010-03-01


Age

: 28

Character Information
Character Name:
Character Location:
Alliances:


http://ultimatepride.wetpaint.com/page/Shiva is your Wiki.
_________________
Admin




Posts

: 614


Join date

: 2010-02-14


Age

: 32


Location

: Earth

Character Information
Character Name: Bulla
Character Location: Earth
Alliances: Z





Posts

: 28


Join date

: 2010-03-01


Age

: 28

Character Information
Character Name:
Character Location:
Alliances:



Similar topics
---
Permissions in this forum:
You
cannot
reply to topics in this forum